Eclectic
Seizure
Profile: Bill Taylor
by the Eclectic Guy, Host of 'Eclectic Seizure'
The idea for WEFT started at the Red Herring in Urbana in the 1970s. The Red Herring had become a locus of the anti war movement, because the University of Illinois wouldn't provide space for activist groups back then. It was the end of the McCarthy era and the university shied away from left-wing or progressive thought.
Bill Taylor worked at WPGU and was running the Red Herring, where he was continually exposed to lots of information that was not on the news, as the cover-up of the Vietnam War unraveled. Bill knew of KPFA in Berkeley, and found their example inspiring. He decided that there should be a community radio station in Champaign-Urbana. Bill was an idealist, and still is. He didn't know that much about starting a radio station. Yet. But he would learn.
Bill's idea for a community radio station became a popular one, although there was no surplus of money, equipment or expertise. Bill and his friends made a trip to Chicago to get the forms, and, when they saw the forms, almost gave up.
Until, that is, the other Bill arrived on the scene. The other Bill, Bill Thomas, had started radio stations before, he knew his way around the paperwork, and, (and this is key), he knew how to fudge a little (just a little) on the paperwork, which takes a special kind of guts. So they drew up a proposal for a station that would use equipment they didn't have and would cost money they didn't have, and they proved they had the money they didn't by listing as assets people's homes and businesses. This was fudging: those people weren't going to give up their homes and businesses. But the paperwork went through. And the equipment? They listed a bunch of state-of-the-art equipment that they'd use in their radio station. They didn't have any of that equipment, but the paperwork went through. The dream went through. The FCC signed off on it.
By this time, all this crazy talk about a radio station was having an effect. People were interested. The community was excited. People kept asking the Bills: "When's this radio station going to start?" This enthusiasm was surprising and great. The idea, after all, was to have a community radio station, and the community was into the idea. So the Bills decided to have a press conference, realizing that if enough people had the same dream, then it was a short jump from dream to delusion, and then to reality. There were some doubters, of course, but the press conference provided a particular incentive for them to follow through: People were watching.
The Bills chose to put WEFT in downtown Champaign, reasoning that it was the most accessible location in the twin-city area, being well served by buses. The first transmitter was on top of the Inman building, at the time the tallest building in the area. Most of the equipment was donated. It cost them less than $1,000 for the equipment to get started. They had a very forgiving landlord at first.
Eventually, WEFT landed a Public Telecommunications Funding Grant from a program sponsored by the Corporation for Public Broadcasting in the mid-'80s. They bought new equipment and increased the signal strength. They were able to do this by having a special antenna designed. WEFT's transmitter has a weird directional pattern: the radius is kidney shaped.
It took five years, roughly from 1976 to 1981, for this crazy talk to take the first baby steps toward reality, but the dream gave birth to a real radio station with equipment and everything, and now WEFT is a mature adult in its twenties that owns its own building. Bill Taylor thinks that WEFT is now probably older than most radio stations in the country.
Bill was WEFT's chief engineer for awhile. Then he moved to Central America. Partly because he thought his daughters should learn Spanish, he had been looking for opportunities to work in radio in a Spanish-speaking country. Through an international community radio organization in Montreal, Bill found an opportunity, and a British international development organization sent him to Honduras.
Now Bill works on a project to get funding to transfer outmoded technology from the U.S. to Third World countries, so he's been helping build radio stations in Central America. His project is called Primary Communications Project, and it's helped a dozen radio stations get built or improved. The situation at some Central American stations makes WEFT look like WGN. In the country of Honduras, for example, there are a total of five radio engineers to serve 120 stations. Bill has seen radio stations with exposed wiring and tendencies to burst into flame. One Nicaraguan station he helped build was blown up a couple of weeks later, probably by contras.
Bill's other main project these days is the Kalyx Center for Creative Experience. The Kalyx center is an alternative retreat center, on a gorgeous piece of land that adjoins Allerton Park with two buildings: a barn and a house. A house was going to be demolished, so Bill bought it for a dollar and had it moved onto the land in 1986. The barn, likewise, was slated to be demolished, but the cost of moving it was prohibitive, so he tore it down and rebuilt it on his land in 1989. Kalyx hosted international work camps, whose volunteers helped do the work.
Bill thinks the importance of radio as a social force is underestimated in the United States. Radio in Central America is different from radio here. For one thing, in Central America, most people are very poor and so cannot afford anything more than a transistor radio. Television and the Internet are not ubiquitous as they are here. There are parts of Central America where literacy rates are low, so the audience for print media is limited because many people cannot read. Radio is so important that repressive governments consider it dangerous. In the United States, radio is primarily for entertainment and advertising. Bill says that if you asked your average U.S. citizen what they want in a community radio station, they wouldn't be able to answer. Community radio stations such as WEFT are a foreign idea in the U.S., but in Latin America, radio is essential to democracy. Bill cites the example of a literacy program in Nicaragua that helped its listeners learn to read.
Bill isn't involved with WEFT anymore, but his work getting WEFT started caused him to attend community radio conferences, and led to his becoming involved in solidarity work in Latin America. Enduring the tension of WEFT's early days helped him hone his skills at nonprofit work. The last time he was at WEFT was on a Sunday morning about a year ago when Paul Riismandel, host of Radio Free Conscience, interviewed him about the Primary Communications Project.
Bill is proud of WEFT, and thinks it has come a long way since 1981. When I asked him if he had any comments about it, Bill said "nice bathroom!" Thanks, Bill. It took five years, roughly 1976-1981, for this crazy talk to take the first baby steps toward reality, but the dream gave birth to a real radio station with equipment and everything and now WEFT is a mature adult in its twenties that owns its own building. Five years. There's a Ziggy Stardust song about Five Years... But I digress.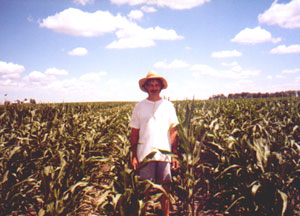 An expurgated version of this appeared in the WEFT Revue (10:1) January-February 2002